An example of technology aimed at lightening applied to a race bike, to get the bike with the best power to weight ratio possible. The Ducati Superleggera V4, declares 224 hp in an approved configuration and 234 hp with the racing kit, the difference lies in the construction materials.
That is the decisive use of carbon, not only in superstructures but above all in the structural elements of the chassis: frame, subframe, swingarm and wheels made from composite material.
These components allow a weight saving of 6.7 kg compared to the Panigale V4 2020. To guarantee the highest quality and safety standards, these components are 100% controlled through the most sophisticated techniques borrowed from the aerospace industry, thermography and ultrasound, and tomography.
The swingarm project started with Bucci Composites at the end of 2018, in order to share the performance objectives and the construction solutions to be adopted.
During 2019 the appropriate materials, thicknesses and laminations were defined. Once made, the prototype was tested on the bench by Ducati and thanks to Ducati's FEM calculations and Bucci Composites' experience, no further tests were needed.
How is a carbon piece of this complexity and technological sophistication produced? It is very interesting to describe them briefly.
After cutting the raw material, kitting is carried out and then manual lamination. The product is passed into the vacuum bag and then into the autoclave for curing. After extraction from the mold, the aesthetic check is carried out followed by structural bonding. At this point, the piece is almost ready and is sent to an external supplier for mechanical processing and painting. We are now at the final steps: dimensional and ultrasound check and gauge check for final resolution and delivery to the customer.
Deliveries are expected to start in June 2020. Only 5 bikes per day will be produced due to the complexity of the production.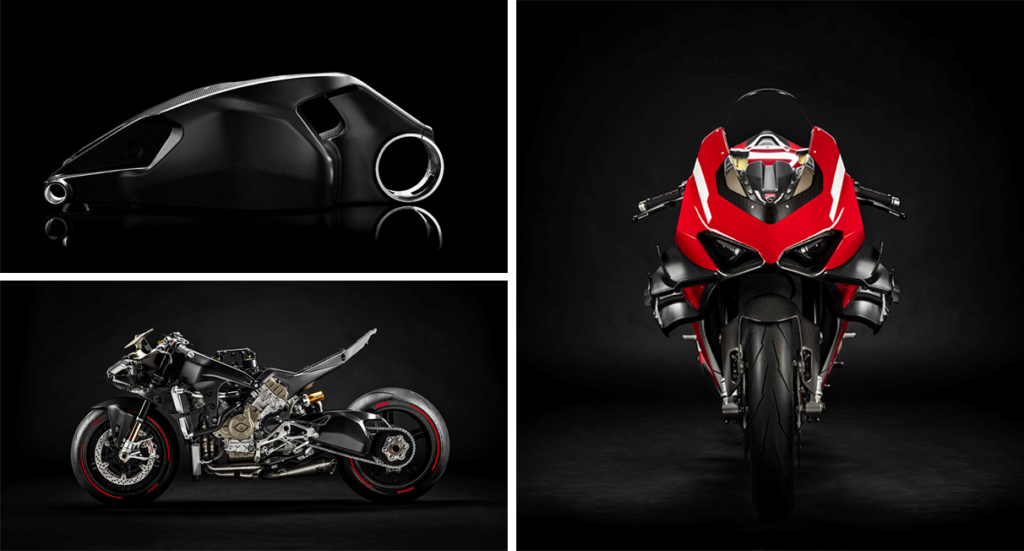 More information:
WWW.DUCATI.COM
This article was originally published on jeccomposites.com